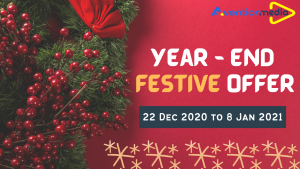 New York City, NY– December 22nd, 2020 :  Avention Media, one of the top Media Buying and Sales Leads Generation company based out of New York, announced an exclusive year-end offer to help businesses to kick start their marketing and sales campaigns in the new year 2021. As the companies are gearing up to keep their business intact amidst COVID19, Avention Media announces 10% off on all media buying and sales leads generation services and the offer is only valid for two weeks from 22nd December 2020 to 8th January 2021.
Email Marketing is a powerful channel, that utilizes an email to promote your business thoughts across a larger set of audiences and grow your business to a new height. If you are an Email Marketer searching for a firm that offers Email records at limited costs, at that point here is uplifting news for you in the accompanying section.
"We have been providing a precise and verified sales leads and authentic media buying services, empowering marketers to locate a better-targeted audience, build up quality sales and win more sales for their business. And, this offer will give more advantage for our customers, giving them an occasion to procure more benefit with less investment", Says Tom Riley, Marketing Head at Avention Media.
He further states that Avention Media has a dedicated team of data and marketing professionals who understand the value of accurate email databases and strive to build a unique and accurate email database which can be a very valuable resource in growing your business. By subscribing to Avention Media's services, businesses need not further invest their time and resources and wait for years to build their customer database as you will gain access to our 80 Million+ business records that enables you to explore new markets, communicate directly with various business leaders across the globe.
About Avention Media
Avention Media is a full-service media research, planning, buying, and advertising agency specialized in Account-based marketing, advanced analytics, and multi-channel marketing solutions. At Avention Media, we help sales and marketing teams in utilizing data to generate sales, drive conversations, and achieve greater returns on investments.
For More Details:
Email: [email protected]
Phone: 1-888-317-9410