June 24, 2021
Posted by:

Kristin Smith

Categories:

Articles, Business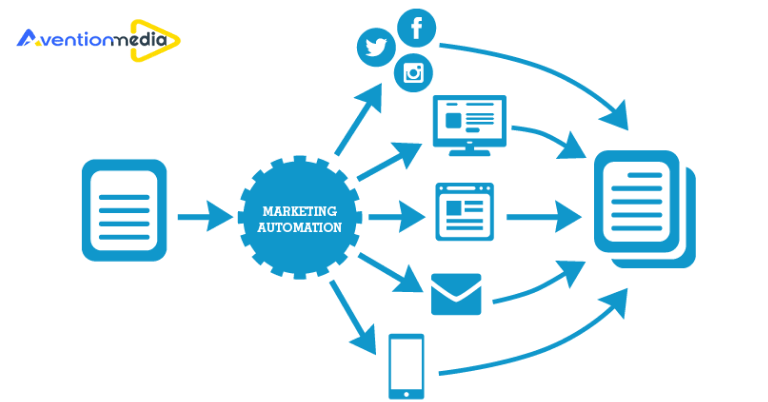 Are you trying to find the best marketing automation tools for small businesses? Marketing automation tools help you save time and scale your marketing approach, allowing you to expand even quicker.
However, to benefit from automation, you must employ the appropriate tools.
There are several technologies available that claim to make automating your marketing plan easy… However, not all of them are what they appear to be. It is critical to understand which software will perform best for YOUR Company.
In this post, I'll show you some of the best marketing automation tools for small businesses, as well as how they can help you save time and expand your company.
 To start with, what is Marketing Automation?
 Marketing automation allows you to focus on the big picture by automating your digital marketing operations. Modern marketing automation tools enable you to communicate with your users in a more customized manner that maintains a perfectly natural appearance. You can automate the sending of emails, messages, and seamless online marketing campaigns.
Automation can assist in the generation of new leads, the development of customer trust, and the expansion of your company. It also aids in the creation of reports, allowing you to see trends over time and enhance your processes even more.
#1 Hubspot
For small business websites, HubSpot is a popular inbound marketing and sales platform. On top of the free email and CRM, it helps you to design your marketing campaigns. HubSpot allows you to develop powerful marketing campaigns with only a few clicks. It entirely automates your marketing and sales strategy with personalization software.
Here are some of the reasons you should use HubSpot:
Email marketing tools are free
Personalized and quicker follow-up with potential consumers
Customer support features are impressive
Conversational bots and live chat
Lead scoring that is automated
Use of analytics and insights to track your campaigns
Pricing: You can avail HubSpot free and upgrade as your business expands. When you add marketing automation and smart content tools to HubSpot, it may be rather pricey. Depending on the services you utilize, the rates range from $50 to $3200 each month.
#2 OptinMonster
For all types of websites, OptinMonster is the ultimate lead generating and conversion optimization tool.  It uses Exit-Intent® technology to convert your website's abandoned visitors into subscribers and customers.
For your company website, OptinMonster is a MUST-HAVE tool. It enables you to create laser-focused marketing efforts that can exponentially grow your business.
Here are some of the reasons you should use OptinMonster:
Total command over your marketing efforts
Create your own campaign types with help canvas
Messages to users that are sent automatically
Users get automated messages
Hundreds of your favorite tools are seamlessly integrated
Insights that will help you enhance your marketing
Automated behavior in real-time
A/B testing to increase lead generation
Pricing: It has a variety of price levels ranging from $9 to $49 per month (billed annually). For small company websites, the OptinMonster Pro package is suggested. It has a lot of useful features and integrations that will help you expand your business.
#3 Sendinblue
Sendinblue provides several digital marketing tools to help you automate your marketing efforts. It comes with a robust toolkit that allows you to effortlessly engage your audience, create leads, and organize marketing campaigns. SendinBlue is an excellent all-in-one solution for communicating with your target audience via email, live chat, and text.
Take a look at the following points to see why SendinBlue is so important:
Dedicated landing page templates for any campaign types
CRM tracks all customer details in one place
Integrated custom signup forms to expand your email list
Allows you to use Facebook retargeting to increase traffic
Email heatmap to enhance campaign design
Time algorithm to send emails at the optimal moment
Integrated tools, products, and plugins
Pricing: Sendinblue provides a variety of options, including one that is completely free. The paid plans range in price from $25 to $66 per month. You may also request a customized enterprise package with additional benefits.
#4 ActiveCampaign
ActiveCampaign integrates email marketing, marketing automation, and CRM for small businesses. ActiveCampaign's most powerful and versatile feature is its marketing automation capabilities. It is among the most comprehensive packages available. Their deliverability is also regarded as one of the best on the market.
Let me give you a quick rundown of the advantages that ActiveCampaign gives to marketers:
Email Marketing
CRM (deals and leads)
Marketing automation
Tracking on-site
On-site chat/SMS
Integrations
Integrations
Pricing: ActiveCampaign has four plans: Lite (starting at $9 per month), Plus (starting at $49 per month), Professional (starting at $129 per month), and Enterprise (starting at $229 per month). These are the fees if you pay on a yearly basis. This is for 500 subscribers; as your list increases, they will increase.
#5 Mailchimp
Mailchimp is the most widely used email marketing tool, and it's the best option for small businesses on a tight budget. Many small businesses will find that their free plan meets their email marketing needs, and it also includes basic email automation.
Here are some of the most important reasons to use Mailchimp:
Email marketing automation software is free
Email automation for enhanced customer experience,
Builder of Customer Journeys
Designing and launching a hassle-free campaign
Before launching an email, preview and test it.
Localized Email Campaigns using Geotargeting
Dissect Your Email Campaigns for Insight Using Mailchimp Reports
Pricing: For up to 2,000 contacts and 10,000 emails each month, MailChimp provides a free plan (with ads). For 500 contacts and 500k emails, the Essentials package starts at $9.99 a month. Starting at $14.99/month, the Standard plan provides advanced automations, while the Premium plan provides you access to all regions for $299/month
Conclusion
Marketing automation preserves brand message while reaching many more people than a single person ever could. Automation is a guaranteed method for small businesses to save time and money, and marketing is the perfect area for doing so. The trick is to figure out which platform is perfect for your business so you can save even more time while increasing your profits.