May 18, 2021
Posted by:

Kristin Smith

Categories:

Articles, Business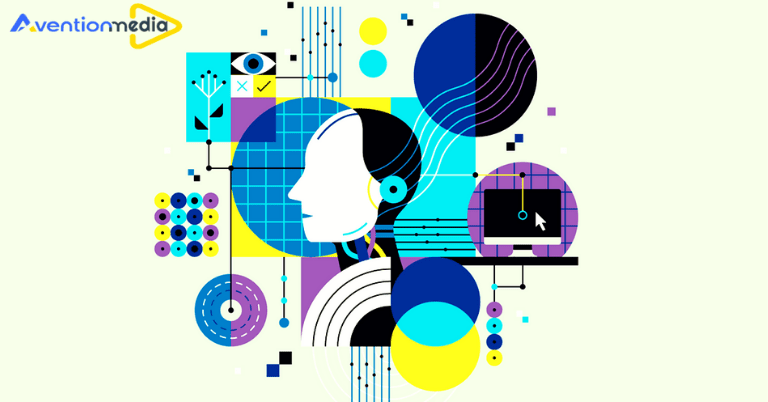 Today B2B marketing tactics have evolved much more than just billboards and email marketing campaigns. Account-based marketing (ABM), artificial intelligence (AI), and analytics are increasingly being used by B2B marketers to match the right consumers with the right content at the right time."
How has AI impacted the B2B Industry
Artificial Intelligence has revolutionized the B2B marketing industry. As per statistics, businesses that implement AI have seen 59% better close rates for sales, 58% increased revenue, 54% more traffic and engagement, and 52% higher conversion.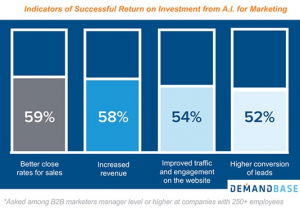 In fact, AI is the future of business, and it's sooner going to be the most necessary tool for every B2B marketer, no matter how big or small your business is. The quicker you learn and apply AI to your business, the better your marketing ROI becomes. Irrespective of your industry type, here are few AI marketing solutions that can revamp your business.
Let's understand how AI can leverage your B2B marketing efforts :
1. Increased Lead Generation with AI
Leads are the lifeline of any business. But the actual effort lies in identifying and prioritizing the qualified leads as all leads aren't always sales-ready.  There are AI tools that help streamline the lead qualification process with predictive lead scoring based on accurate data and attributes, which is a giant step toward sales automation. Without increasing headcount, marketing and sales teams can not only identify but also prioritize which leads to close and nurture in the future.
2. AI takes Personalization to the next level !!
Personalization is crucial for B2B marketing. According to a survey, 71% of B2B marketers have implemented AI technologies for its super personalization tricks.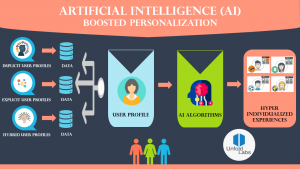 With AI automated tools marketers can monitor real-time chats, start conversations with consumers, and even streamline lead generation by tracking keywords and mentions through multiple social networks. B2B brands can customize marketing campaigns, understand consumer intent signs, and educate their target audience with AI as aid. This also helps produce and prompt highly personalized recommendations for every buyer customer.
3. AI driven Automated Conversations
About 50% of consumers expect businesses and their customer support centers to be available round the clock. And AI offers the perfect solution of being available round the clock through chatbots. AI-powered and automated Chatbots can help achieve the following:
Real-time response to customer queries
Understand and respond to customer needs
Offer suggestions to customer
Sent scheduled messages
Promote/inform about new products and services
AI Automation
Conduct surveys, ask for feedback
Any B2B marketing campaign should include automated conversations as they improve brand responsiveness to consumers. When buyers find the information they need, they tend to make purchases quickly.
4. Optimized Content Creation using AI
The quality of content produced by B2B companies may also be an exhibition of personalized marketing. AI can assist in content creation processes by automating and optimizing the basic tasks.
Consider using Predictive analytics to create more engaging subject lines and calls-to-actions, also determining the best times to send content to your prospects.
With AI, marketers are empowered as it allows them to create sensible and valuable content those users are interested in reading. It also simplified SEO. Identifying appropriate keywords based on user intent and building high-quality backlinks, for example, is no longer a problem thanks to AI. With AI, the time-consuming and boring SEO tasks can be completed easily and quickly.
5. Implement User Analytics data Future Campaigns
With increasing AI advancements, there are a growing range of AI-based marketing and sales tools available now that can collect data, derive insights from it, and extract present meaningful representation out of them. These tools have become increasingly common in recent years, with a study revealing that 30% of respondents use both Google Analytics and Adobe Analytics.
By 2020, 57% of businesses have leveraged user analytics to implement better lead generation strategies. As a result, lead generation is expected to become increasingly data-driven, with analytics playing an increasingly important role.
User analytics also helps gain insights on traffic volume, its sources, and the visitor engagement. These results assist in your link-building and link-earning activities for SEO and referral purposes, allowing you to maximize your marketing budget for the sources that drive the most traffic to your site.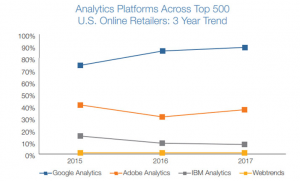 User Analytics with the marketing automation software helps you track the prospect visits more effectively, ultimately targeting and guiding them throughout their buying journey.
Conclusion
With artificial intelligence, lead generation marketers will better understand each visitor's intent, and based on the data recommend relevant optimized content to the visitors. While also achieving their website's business goals. By embracing machine learning and AI technologies, B2B marketers can realize improved efficiency and new capabilities, sparking innovations that can transform better customer engagement and increase the number of high-quality leads for businesses.